In 1995, the northwest Ft. Lauderale community applied for an EPA Technical Assis tance Grant (TAG) to evaluate the completeness of the RI/FS and the suitability of the recommended remedial design of the abandoned trash incinerator. BFA, and particularly Patrick A. Barnes, P.G., was selected to provide the TAG services. Working on behalf of the community, BFA identified several remedial design shortfalls, including too few monitoring wells, and off-site sampling sediment points.
Read more...
Source Removal Activities Miami International Airport
(Buildings 3047 & 3049)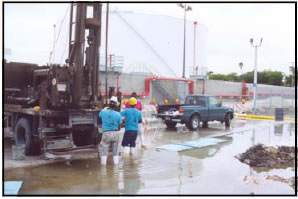 Under the Dade County DERM-01 Contract, Barnes, Ferland and Associates, Inc. (BFA) has completed a contaminated soil source removal consisting of over 4000 tons of impacted material. BFA was responsible for implementing the project in a turn-key fashion. Activities performed include development of a Health & Safety Plan, Maintenance of Traffic Plan, a Sampling and Testing Plan, as well as implementing quality assurance procedures.
Read more...
Barbados National Terminal Company Limited (BNTCL) has retained Barnes, Ferland and Associates, Inc. (BFA) on a continuing environmental contract to provide environmental services. BFA was initially retained to conduct a performance evaluation of BNTCL's wastewater treatment system and its suitability to treat effluent prior to discharge to the outfall at Carlisle Bay.
Read more...